News & Announcements
JUSTICE SERVED
June 18, 2022 -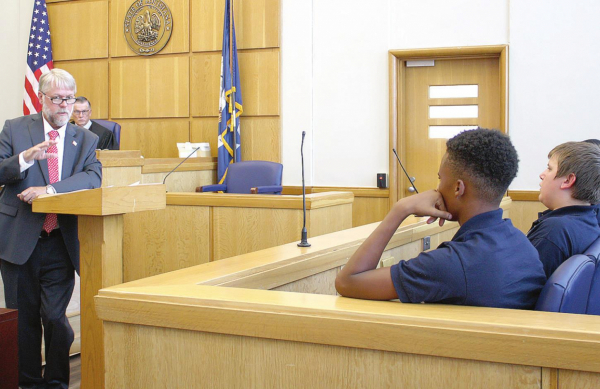 Nancy Bergeron Nancy@rustonleader.com
Kids learn law and order at Youth Academy
A Ruston teenager has been found guilty of simple burglary of an inhabited dwelling.
The unanimous verdict was handed down Thursday afternoon by a 3rd Judicial District Court jury after only five minutes of deliberation.
The teen blamed the verdict on his having testified in his own defense.
"I should never have testified," he said.
Despite the teen's being juvenile, the trial was held in open court.
Under cross examination by Assistant District Attorney Lewis Jones, the youth admitted to underage driving and said he couldn't possibly have been the burglar because he doesn't wear a baseball cap.
When Jones asked why, the teen replied, "because I have too much hair."
Two witnesses, both neighbors of the victim, said the burglar was wearing a cap.
"Would you have this jury believe you can't find a baseball cap big enough to fit your head?" Jones asked.
The hour-long trial was marked by conflicting testimony over whether the burglar was Black or white. Though one witness said the suspect was Black, the deputy who stopped the male said he was white.
Under questioning from defense attorney Claudia Payne, the young deputy said he was typing his report so fast he could have made a mistake as to the suspect's race.
The teen testified he's biracial.
"That means you could be described as Black or white," Jones said.
The juvenile was charged in connection with a burglary that took place earlier Thursday on Road Camp Road and in which a laptop computer was taken.
His arrest came after two rookie Lincoln Parish Sheriff's deputies pulled over his gray Ford Expedition on a routine traffic stop and discovered the juvenile driver was a suspect in the burglary.
Deputies also found a laptop matching the description of the one taken sitting on the back seat of the vehicle.
After District Judge Bruce Hampton read the verdict, which he said was only "somewhat in order," laughter rippled through the courtroom. The teens' friends mobbed around him, checking to see if he was handcuffed. He was not.
That's because he and the other youngsters involved were role playing in a mock trial that was part of the Lincoln Parish Sheriff's Office first Youth Cadet Academy.
Eleven junior high boys spent three days last week getting a behind-thescenes look at what law enforcement officers do and why they do it.
"We're exposing them to everything," Sheriff Stephen Williams said.
The academy is for youngsters who are interested in law enforcement as a career.
Participants learned self-defense, how to identify and collect evidence, how to make a traffic stop, and attempted to steer golf carts while wearing goggles that simulated the driver's being intoxicated.
They also visited the Lincoln Parish Detention Center, where their role-playing burglary suspect was "booked in," watched a session of misdemeanor count, practiced at the LPSO shooting range, and saw LPSO's special response team in action.
"It's been pretty cool. We've learned a lot about (an officer's) life and their job," participant Hayden Clark said.
He said he wasn't expecting the atmosphere the group found inside the detention center.
"It's not like it is on TV. I think it sorta scared some of the kids. They don't want to go back there," he said.
The idea for the academy came from one of the participants, 13-year-old Koltuhn Mardis.
Koltuhn said he'd seen videos about other youth programs on social media and discovered one of the programs was in Ouachita Parish.
"I felt we should have one here in Ruston," he said.
Koltuhn, who wants to do undercover police work, said he thought other youths might also be interested in law enforcement.
That led to discussions with LPSO personnel and became the framework for the academy.
Major Landon Hunt said academy planners chose the mock trial format — complete with an official-looking incident report and bill of indictment from the district attorney's office — so that participants could apply the skills they'd learned earlier in a real-life scenario.
"In the three days we wanted to give them a complete overview of everything we do," Hunt said. "Everything they did on the first day, they were able to use in a real-life scenario on the second day."
Participants learned how to make traffic stops and how to recognize, collect and preserve evidence. Then they did those things at a mock crime scene of the pretend residential break-in.
Koltuhn played the arresting officer.
"It was great," he said about the simulation. "It was everything I was looking for."
Being a witness in the mock trial was fun, Koltuhn said, though he said he was also "kind of nervous."
Mitchell Bergeron played the burglar.
After Koltuhn "arrested" him, Mitchell was placed in a patrol car with a prisoner partition that separates the officers in the front seat from their detainee in the back seat.
"It felt like a criminal," he said. "If this was a real situation, I'd probably feel embarrassed."
Mitchell described his experience on the witness stand as "scary."
The grandson of a retired law enforcement officer, Mitchell said he wants to be a detective.
LPSO held a graduation ceremony for the cadets on Friday. Williams said the academy was so successful that LPSO is planning to expand it next year.