News & Announcements
THERE'S SOMETHING ABOUT A DOG
May 28, 2019 -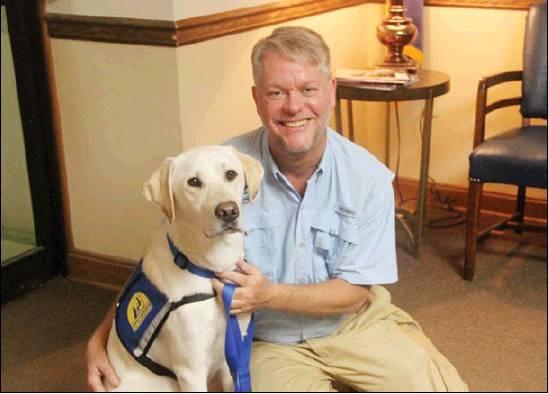 Leader photo by NANCY BERGERON
District attorney's office gets facility canine
By: Nancy Bergeron
It's midafternoon on a workday, and the newest member of 3rd Judicial District Attorney John Belton's staff is napping in a corner.
The new guy is Navy, a 2-year-old yellow lab/Golden Retriever mix. He's a facility dog.
A facility dog is specially trained to provide emotional support to victims — most often juveniles — during court testimony, interviews, and counseling.
Navy will be used primarily with victims of physical abuse and sex crimes. A 2018 law allows facility dogs in Louisiana courtrooms for all witnesses under age 18 and for people with developmental disabilities.
Judges can decide on a caseby-case basis whether to allow older witnesses to have facility dogs accompany them.
Typically the dog sits alongside the witness. If it senses the personbecomingtense,edgyor upset, the dog is trained to put its muzzle in the person's lap so that the individual can easily touch the dog's head.
Research has shown that petting an animal can significantly reduce stress.
"Most people like dogs, especially kids love dogs. With them talking about these horrible things that have happened to them, (having a dog to pet) helps," Jones said.
Navy is the 3rd Judicial District's first facility dog. He's one of only seven dogs working in district attorney's offices in Louisiana. He's been on the job since May 13.
Navy was trained by and
still belongs to the Californiabased nonprofit Canine Companions for Independence.
His work attire is a blue vest with the CCI logo on it. CCI provides facility dogs and other service animals free of charge.
No taxpayer money is being spent on Navy. For now, Jones, Navy's handler, is footing the bill.
Facility dogs live with their handlers, who undergo two weeks of training. Though the dogs have already been trained, handlers have to be paired with a dog, then learn how to get their dog to perform.
Navy can respond to about 40 commands. He can open and close drawers, turn on lights, push automatic door openers and pick up car keys and other items in his mouth.
He won't bark unless Jones tells him to "speak." Neither will he move unless told to do so.
Navy was bred in California and given his name there. At 8 weeks old, he was sent to CCI puppy raisers. Navy's puppy raisers were inmates at Montgomery Federal Prison in Montgomery, Alabama.
Puppy-raisers teach the dogs 30 different commands and work with them for up to nine months. Next, Navy went to a family in Florida until he was about 18 months old.
He and Jones were paired on the third day of training in Orlando, Florida.
"I told them I wanted him to work with mainly juveniles and mainly sex abuse victims, to help them though their testimony," Jones said.
Navy won't work every day, but when he does, he'll likely spend much of his time at the Pine Hills Advocacy Center.
The nonprofit center houses programs of the D. A.'s office aimed at providing support to survivors of sexual trauma and violent crimes.
"Having a therapy dog like Navy immediately sooths the child," Julia Summersgill, the Pine Hills Advocacy Center's director, said. "Children have a calmness about them when a therapy dog is introduced. The hope is they will open up and tell their story."
That hope has already come to fruition for Jones. He talks about a young victim who came to the Lincoln Parish Courthouse for an interview.
"I said, 'Do you like dogs?'" he said.
She did. Jones brought Navy to her, and she began to play with him.
"You could tell it just made it easier for her to talk," he said.